Victor Hugo statue cleaned for centenary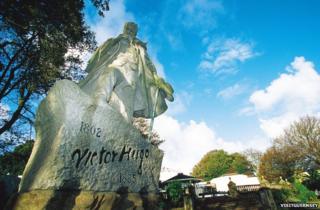 A statue of Victor Hugo, which was a gift from the people of France, is being cleaned ahead of the 100th anniversary of its unveiling.
The author spent the majority of his 19 year exile from France in Guernsey and the island was given the statue, which is now a protected monument, in 1914.
The cleaning is expected to take a week to complete.
Protective sheeting has been placed over the 3.15m (10.3ft) high statue for the duration of the £6,000 project.
Helen Glencross, Guernsey Museum's historic sites curator, said: "He was last cleaned in 1993 so it is time he is thoroughly assessed and cleaned.
"The lettering around the base of the statue will be cleaned and then gilded to restore the statue to its original appearance."
The 9,800kg limestone statue was made in 1913 by French sculptor Jean Boucher and bought by the French government for 30,000 francs (£1,291).
It was transported from Paris to Cherbourg and then to Guernsey by steamboat before it was officially unveiled on 7 July 1914.
Mrs Glencross said: "The unveiling was the result of many months of planning on both sides of the Channel and many dignitaries from England and France attended.
"St Peter Port was lavishly decorated and there was a full programme of events."
When Victor Hugo fled France in 1851 he went to Jersey, but was expelled from there and made his way to Guernsey.
During his time in the island, from 1855 to 1870, he published some of his most famous works including Les Miserables.
The proceeds from the sale of his book of poetry Les Contemplations allowed him to buy 38 Hauteville, in St Peter Port, which remains as he decorated it and is a tourist attraction owned and operated by the City of Paris.