Alderney's gannets return to the island after storms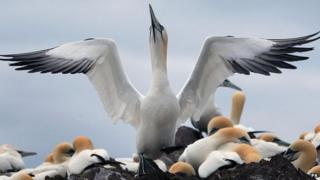 Gannets have returned following "unprecedented" numbers of seabirds killed during the winter, Alderney Wildlife Trust has said.
Now the trust is organising wildlife boat tours for people to see the birds.
The RSPB reported that more than 2,000 dead seabirds were found along the coasts of the Channel Islands, Cornwall, Devon and Dorset in February.
Manager Roland Gauvain said: "We want to highlight they are returning and give people a chance to see them."
The charity said puffins have also been seen in Alderney's waters and asked people to abide by the wildlife code of practice.
It asks boat owners to reduce their speed and keep away from seabirds.
Aurelie Bohan, from the trust, said: "It is vital boats do not force the birds off the water as every time they take flight it reduces the amount of foraging time they have to put on weight and supply their young.
"By operating carefully, boat owners can still get the best out of Alderney's stunning marine environment, whilst not adding to the problems of our already stressed seabirds."
The total death toll of seabirds killed across the North East Atlantic was expected to exceed 28,000 birds following the winter storms.
Dr Euan Dunn, RSPB principal marine advisor, had said the scale of bird deaths in February was "unprecedented in living memory".