Tidal array to be built off Alderney 'by 2020'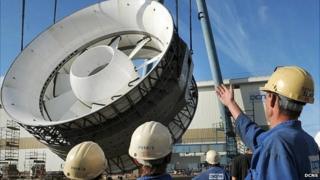 A large renewable energy tidal array could be built off Alderney by 2020.
OpenHydro and Alderney Renewable Energy (ARE) have announced a joint venture to develop a 300 MW array, made up of 150 turbines.
A spokesman said the array would produce enough power for more than 150,000 homes.
He said it was due to come online at the same time as an electricity interconnector cable between France, Alderney and Britain.
The cable, which would allow power to be sold between the three areas, is being developed by French grid operator RTE and ARE.
Nick Horler, executive chairman of ARE, said the deal was a "critical piece in the jigsaw" of creating "one of the largest renewable energy projects in European coastal waters".
He said the project was expected to generate £10m a year for Alderney's economy.
Most powerful tides
Under the new agreement Openhydro would manufacture the turbines in Cherbourg, in an industrial site owned by its parent company DCNS.
ARE was set up in 2004 and in 2008 signed a 65-year exclusive licence to commercially develop tidal and wave power around the coast of Alderney.
The company has estimated about 50% of the tidal energy resource in Europe and 10% across the world is around the island, which has some of the most powerful tides in the British Isles.
The joint venture, called Race Tidal Ltd, has agreed to carry out surveys and environmental impact assessments before applying for permission for the work from the Alderney Commission for Renewable Energy and the island's government.