Alderney's puffins 'need better legal protection'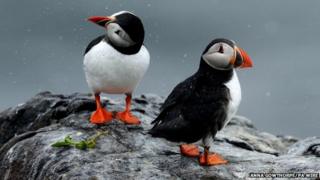 Alderney conservationists say tougher laws are needed to protect the island's 340 puffins.
The colourful seabirds are returning to breed following a winter which killed about 16,500 of the northwest European population.
The Alderney Wildlife Trust said dog walkers who repeatedly allowed dogs to disturb nests should be prosecuted.
Dozens of storms killed an estimated 32,000 seabirds in northwest Europe, about half of them puffins.
Trust manager Roland Gauvain said: "Anywhere breeding birds are trying to establish, especially where you have dog access near to them, disturbance can put them off their nests or destroy the nests, not intentionally, just the activity itself can cause the damage.
"This year, because they've been so stressed during the winter period, the chance of that happening, we would argue, are massively increased."
Mr Gauvain would like to see more beaches closed to dogs during breeding season and a 1954 wildlife law toughened.
"People are not in any way inclined to hurt wildlife," he said, "but it's about not understanding that walking your dog when you're 30 metres away from a nesting site is causing it problems.
"We're not talking about anything draconian, we're just saying that where people are repeatedly doing things, where there is clear evidence they're causing harm, there should be the ability to prosecute."
Steve Byrne, manager of the Guernsey Society for the Prevention of Cruelty to Animals, supports tougher legislation.
He said: "We're always trying to promote responsible dog ownership around wildlife or livestock. That's something we get a lot of calls about. Responsible pet ownership should result in wildlife being left to do its own thing.
"When people let dogs off leads in sensitive wild areas where birds might be, then those pets can stress, disturb and even cause harm."
Alderney's government said it was "keen to engage" with the trust.