Guernsey beach fails water quality standard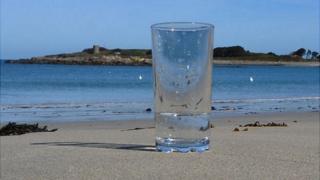 A beach in Guernsey has failed to pass the minimum European standards for water quality.
Ladies Bay was one of just 14 beaches of 734 surveyed across the British Isles for the annual Good Beach Guide that was found to have poor water.
Of the 13 Guernsey beaches listed, only five were recommended as having "excellent water quality".
Guernsey's Environment Department said the number of samples it took fell from 20 in 2012 to eight in 2013.
Minister Roger Domaille said the number of tests had been cut to save about £20,000 a year under a government savings programme.
The spokeswoman said the reduction in the number of tests meant one poor sample could significantly change the outcome.
"It should be borne in mind that these test results are 'snapshots' of the bathing water quality at a specific time," she added.
"There is now considerable research which shows that bathing water quality may be lowered by the run-off during heavy rainfall from roads, streams, and agricultural fields.
"Given the historically excellent standard of bathing water in Guernsey and continuing improvements by Guernsey Water there is every reason to be confident that Guernsey will continue to have some of the most beautiful beaches and good bathing conditions in Europe."
Rachel Wyatt, from the Marine Conservation Society, said a number of factors could affect a sample.
She said: "What we are looking at is an elevated level of bacteria.
"That can come from livestock, faeces from dogs, birds or maybe from the sewage systems."
In Jersey, 13 of the 16 listed beaches received recommended status.
To receive recommended status all samples must not exceed 2,000 E. coli per 100ml and sewage discharges have to be "appropriately treated" to remove the majority of bacteria.