Sark police armed with pepper spray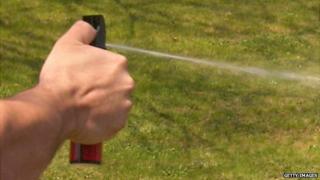 Sark's voluntary police force will be armed with pepper spray.
The Channel Island's 600-strong population is policed by four volunteer officers and back-up can be provided by Guernsey's force.
Pava spray is used to incapacitate suspects for up to 30 minutes and will be carried by the officers once they have completed training.
Acting Constable Jim Williams said it was another tool for them to use, but he hoped he would never have to use it.
Conseiller David Melling, deputy chairman of the Douzaine, said: "It's an emotive subject for an idyllic little island to have to even consider such a deterrent is a big move."
He added: "With volunteer constables who puts their life on the line on occasions, and I stress it's rare occasions, they need this protection."
The proposal was passed by a vote of 15-10 by the island's government.