Guernsey States approves paid parking transport plan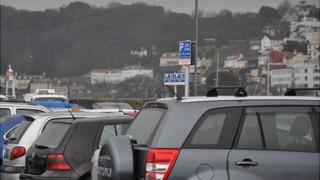 Workers will have to pay more than £1,000 a year to use public car parks in St Peter Port, Guernsey.
The introduction of fees for long-term parking was part of a traffic strategy agreed by the States.
It involves buses being made free for an 18-month trial and the introduction of duty based on the width and CO2 emissions of vehicles.
It's not yet clear when the 60p an hour parking charges will be brought in as a number of laws need to be rewritten.
However, the introduction of the whole strategy is expected to cost £835,000 with its ongoing costs met by paid parking and the vehicle registration fee.
Currently public car parks across the island are free, although the time spent in a space is limited and the time of arrival must be displayed.
Under the plans short stay spaces, in which motorists are allowed to stay for up to two and a half hours, will be free.
Deputy Barry Brehaut, who was one of those behind the proposals, said: "You can't feel entirely 100% happy on imposing tariffs, charges and duty on people.
"The reality is that we have a problem on the island, the problem is to do with the motorcar, the circulation and congestion.
"The way you deal with that is to have incentives and disincentives and the States have agreed those.
"People won't wake up with paid parking tomorrow. Paid parking will not come in before 2015," he added.
The plans are due to be reviewed in 2017.
The strategy includes:
Paid Parking - 60p an hour for long-stay parking
Details of money made and spent on paid parking to be published annually
Vehicle registration fee - up to £2,000
Width duty for private vehicles - up to £2,400
CO2 emission vehicle duty - up to £3,200 for private and £2,000 for commercial
Bus depot to be built - £20m
Petrol duty to remain at 48.8p per litre
Tender for public bus services from 1 April 2015
Review of speed limits - island maximum currently 35mph
Project to improve transport for disabled people - £150,000 budgeted
Learners will have to pass theory test before being allowed on roads
Changes in laws for motorcyclists
Walking and cycling facilities to be improved
Park and ride scheme to be reviewed
Ways of encouraging car sharing to be investigated
Eight additional taxi licences created for vehicles adapted for disabled access
Taxi services to be reviewed
Laws on presumed liability for cyclists and pedestrians to be reviewed
Tax benefits for employees with company parking to be reviewed by January
Businesses to be required to produce travel plans for staff
States members to pay £165 year to park at Lukis House during States meetings