Guernsey divers 'losing money' over chamber repair delays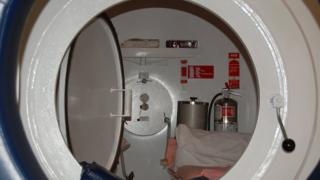 Commercial divers in Guernsey say they are losing out financially because there is no longer a recompression chamber in the island.
A facility run by St John Ambulance broke down in April and the charity cannot afford to replace or repair it.
Treatment is available in Jersey but that is too far away to comply with health and safety standards.
Commercial divers must be within two hours of a chamber when diving more than ten metres.
Steve Bougourd, from Donkey Divers, which offers diving courses and trips, said the failure to repair the device was "a big blow to us".
"We didn't get any notice that this was going to happen. There was no time for us to get together and plan anything so it's really interfered with our business."
He added: "Diving is an extremely popular pastime on the island and it attracts a lot of people. It's not a great advertisement."
In a statement, Guernsey's Commerce and Employment Department said the closure was "regrettable".
"Discussions are ongoing with all stakeholders to find a resolution which include considering the short-term hire of a mobile hyperbaric chamber for specific commercial projects. This restriction will remain in place until a solution can be found."