Guernsey ambulance safety warning after dinghy rescue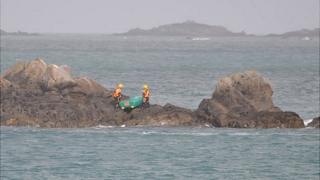 Two men were rescued from rocks off Guernsey after their dinghy was swept out to sea by strong winds.
The Portuguese nationals were on their way to a boat they had purchased when their flat bottom boat was blown out of Bordeaux Harbour at about 16:00 BST.
The St John inshore rescue boat brought the two men ashore before returning their dinghy to Bordeaux.
Paul Phillips, acting station officer, said neither were wearing lifejackets and it could have been much worse.
He said: "They were lucky they got the rocks or they could of gone a lot further north towards Herm or mid-channel.
"We've got a lot of shipping today and the weather is not so good.
"It was a small incident but it could have been a big one."
The duty harbourmaster spoke to the pair about wearing lifejackets and "appropriate clothes" when on the sea.