Commonwealth Games baton on island hop jaunt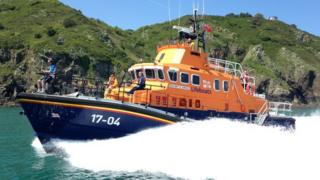 The Queen's Commonwealth Games Baton relay visited four different islands in the final day of its Guernsey tour.
It spent an hour in each of Alderney, Sark and Herm, with children carrying it.
The baton's tour of the Commonwealth arrived in the Channel Islands on Sunday and was carried into St Aubin in Jersey by diver Tom Daley.
It will head to the Isle of Man as part of its home nations tour, finishing with a 40-day tour of Scotland.
The baton contains a secret message from the monarch, which will be revealed at the opening of the 2014 Games in Glasgow in July.
Its first stop in the Bailiwick after Guernsey was Alderney, where it was the centre piece of a special assembly in the island's only school.
Alderney tourism manager Alex Flewitt said it was an incredible opportunity.
She said: "It has been a fantastic few hours. What a wonderful opportunity for a community as small as ours to welcome something that children across the UK would not have had the opportunity to see."
It then headed to Sark to visit the local parliament and school children.
Finally, it made a brief trip to Herm where the island's nine children hosted an outdoor assembly.
After the Isle of Man it travels on to Northern Ireland, Wales and England before ending its journey with a 40-day tour of Scotland.