Chelsea gold for Raymond Evison and Guernsey Clematis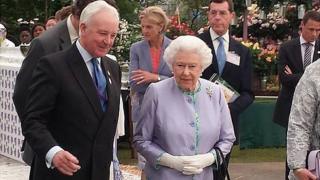 Clematis grower Raymond Evison has won his 26th gold medal at the RHS Chelsea Flower Show.
The medal was awarded for the Guernsey Clematis display, which has won a gold each year since 2003.
Mr Evison said: "[I'm] absolutely thrilled, [I've] been really worried because it's been exceedingly hot and the flowers were fading."
He paid tribute to the members of his team, saying it had been a "team effort" and "a great thrill".
Mr Evison said the visit of the Queen to the display had been a "tremendous honour".
Sir Geoffrey Rowland, Guernsey's former Bailiff, praised the display and suggested the home-grown success could be used to attract visitors to the island.
He said most stands were sponsored by financial institutions so the advertising of the island as a tourist destination could be done as a public-private partnership.