Guernsey fill-cream milk sales down a quarter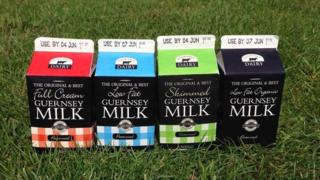 A restructure of Guernsey's dairy industry may be needed after figures show full-cream milk sales were down by a quarter over the last decade.
Guernsey Dairy General Manager, Andrew Tabel, blames a desire for healthier diets on the sales slump.
In 2002, about 900,000 litres of full-cream milk were sold, which had dropped to fewer than 690,000 in 2013.
By law, the only fresh milk allowed to be sold in Guernsey is from Guernsey cows on the island.
Mr Tabel said people were switching to the semi-skimmed product, but that it could also be a good thing for the company.
"From a business perspective, the more people that consume lower fat products, the more cream we have to produce butter with," he said.
"So our butter margins are increasing and the sales of butter products are increasing."