Alderney D-Day veteran George Paltridge given coin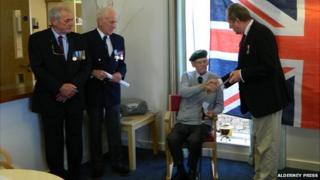 A former commando who landed on Sword Beach on D-Day has been presented with a commemorative Alderney coin.
George Paltridge, 91, was serving in 4 Commando when his unit landed on Sword Beach to take a strong point and gun battery in Ouistreham.
Mr Paltridge, a Jubilee Care Home resident, is the only survivor of the June 1944 landings living in Alderney.
The signaller described the events of 70 years ago as "terrible, but we got through it, we had to do it".
He said: "It's a job to explain, very frightening to tell the truth, but it was what we had been training for so it had been expected really and I did what was expected of me.
"There were so many people trying to clear the beach and they couldn't... I'd never want to see it again."
After capturing the emplacements in Ouistreham the commandos joined up with the rest of the 1st Special Service Brigade to reinforce the 6th Airborne Division at the Orne bridges, including Pegasus Bridge.
The unit stayed in France for 82 days with more than half of the commandos being killed or injured.
Mr Paltridge was among those wounded and he was sent back to England and spent some time on leave in his home town of Blackpool before returning to combat.
Stuart Trought, the president of the States of Alderney, presented the specially-commissioned £5 coin - one of the series produced by the Royal Mint.
The coin, which is Alderney currency, portrays two British soldiers wading through the shallows from their landing craft, heading for the fortified beaches ahead, artillery fire creating splashes in the water around them.
Encircling them are the codenames of the D-Day landing beaches - Gold, Omaha, Juno, Sword, Utah.