Guernsey States meetings could be televised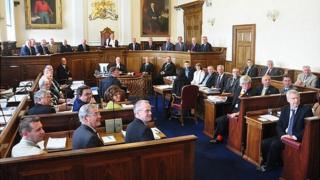 Guernsey States meetings could be televised under plans to remove broadcasting restrictions.
Currently States of Deliberation and States of Election meetings can only be heard in person or by listening to BBC Radio Guernsey.
Deputy Matt Fallaize, States Assembly and Constitution Committee chairman, said meetings should be "as transparent and accessible as possible".
He said the aim was to increase public involvement with the political process.
If approved the proposals would allow media companies to stream the meetings online and formalise the current informal ban on photography - except on specific occasions.
The cost of any new services would need to be met by the media company.
Deputy Fallaize said: "We hope that local media companies will take advantage of the liberalised regime... and we would look forward to working with them further."
The proposals are due to be voted on by the States next month.