Troubled St Anne's School receives 'positive report'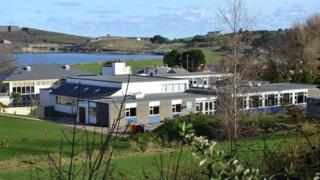 The head teacher of a school which had significant failings has said he has received a positive report from inspectors following a further visit.
A validation report carried out at St Anne's School in Alderney in November found weaknesses in teaching and assessment at the school.
Following a visit in May, head teacher Mike Gaunt said inspectors have "made a positive judgement on our progress".
The state school currently has 126 pupils aged from four to 16.
'A lot of pressure'
In a letter to parents, Mr Gaunt said: "Clearly, we will continue to make further progress. But it is pleasing to note that we have, in their judgement, (in only 16 weeks) made reasonable progress.
"The collaboration between colleagues and their counterparts across the Bailiwick will continue, so that lessons become even better."
He also added it had "been a trying time for all in school but the hard work, dedication and professionalism of all colleagues has been vindicated in a positive judgement".
He told BBC News he felt "a lot of pressure" to turn around the school following the visit by inspectors from the States of Guernsey's Education Department in November.
"We put together an action plan and ticked off the boxes."
The three-day assessment in November rated many areas as "less than proficient", the fourth lowest of five ratings.
It found teaching was generally weak in key stage 3 and 4 and especially poor in literacy, which it related to a lack of planning of the curriculum.
However, it also praised some teachers for providing stimulating and challenging lessons and said staff created a safe environment by adopting a caring approach.