Guernsey Fermain Bay defence redesigned before repair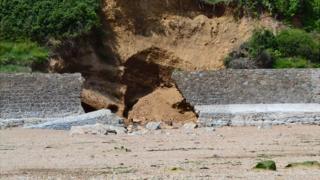 Sea defences in one Guernsey bay will be redesigned before any repairs are made to a breach made by winter storms.
A 10m (33ft) section of the Fermain sea wall fell away after being battered by waves and high winds in January.
Jan Dockerill from the Environment Department said the repairs, expected to cost about £500,000, would not begin until the design had been agreed.
She could not give an idea of when the repairs would be done, but said they would be a long-term solution.
Ms Dockerill said the money for the project would have to be released by the treasury and the department would put a business case forward once a design had been approved.
She said the wall was believed to have been built in the late 18th Century and was more likely to have been built as a military defence rather than a sea defence.
Robert Steen, general manager of the Fermain Valley Hotel, said the damage and a sign warning of the "dangerous wall" was putting tourists off from visiting the beach.
Ms Dockerill said the sign was meant to advise people to avoid the area around the damaged wall for their own safety and not the whole beach so they would "make the signage clearer".
She said there were other important areas that needed repairs including the harbours and the Vazon sea wall, next to the main coast road.
Ms Dockerill said: "Fermain is a very beautiful beach, but doesn't protect any houses, roads or utilities so we have to prioritise."