UK flight duty to be investigated by HMRC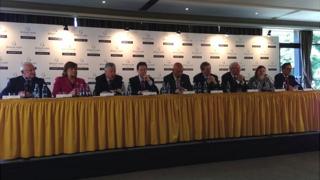 Flight duty being charged to Channel Islands passengers using the UK as a stopover will be investigated.
Currently only passengers with cross-referenced flights that arrive and depart within 24 hours are not charged UK air passenger duty.
Deputy Prime Minister Nick Clegg said HM Revenue and Customs would look into the issue raised at the British Irish Council, held in Guernsey earlier.
Guernsey officials estimate it costs island passengers £3.5m a year.
UK air passenger duty is charged when flying from a UK airport - whether the flight is internal or international.