Guernsey WW1 memorial may be restored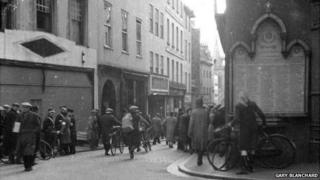 A memorial to soldiers who lost their lives in World War One, which was taken down in the 1950s, could be restored.
The wooden plaque was first unveiled in 1917, in memory of those killed from the St Peter Port Parish in Guernsey.
By the end of the war, it had been extended to include 193 parishioners who were killed in the conflict.
Douzenier Keith Pike has already raised £900 of the £2,000-£3,000 needed to create a new version of the memorial, which he hopes to unveil in August.
The plaque, made from walnut and zinc, was put on a wall at the top of the High Street.
It was removed in 1955 during work to the wall on which it sat. It was in bad condition and needed about £50 - the equivalent of about £1,200 - of renovation work if it was to be restored.
Public donations
The parish authorities decided against the work as all those named were remembered on the Bailiwick War Memorial, at the top of Smith Street, which lists those killed from across Guernsey, Alderney, Sark and Herm in both world wars.
Mr Pike said the new version would be made of acrylic so it would be more hardwearing.
He said he would like donations from the public as this was how the money for the original plaque had been raised.
Guernsey store Les Riches, which had owned the wall when the plaque was first unveiled, created a smaller version of the memorial for a millennium project at Admiral Park.