Struck man 'walked in path of bus' in Guernsey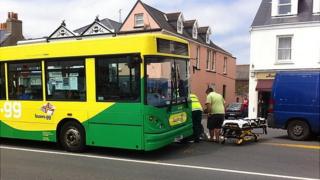 A pedestrian has been taken to hospital after walking in front of a bus at the Bridge in Guernsey.
The man - and witnesses - told police he was hit after failing to look when he stepped in to the road just before 11:45 BST.
Sgt John Tostevin said the man had been "conscious and breathing" with a "non-life threatening head injury".
He reminded people to look both ways and to use zebra crossings when walking across the road.
Sgt Tostevin said the bus had not been in service and there were no paying passengers on board.
He said the driver had been taken back to the bus company's offices and was receiving treatment for shock.
Traffic in both directions was diverted for about an hour and caused delays described as "traffic chaos" by Sgt Tostevin.