Guernsey Bronze Age burial site 'destroyed'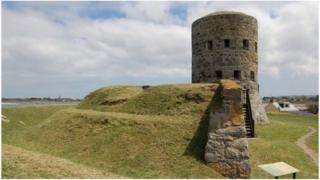 Remains of ancient burial chambers on Guernsey have been destroyed, an island archaeologist has said.
Dr Phil De Jersey, who investigated a site on Rousse headland, said he discovered "a couple of bits of flints", but no other finds from the Bronze Age site on the coast.
He said the exact cause of the damage would remain unknown.
But it may have been caused by treasure hunters from many years ago or erosion by the sea, he added.
"It does give us a bit of encouragement to look above the high water tide mark because we do have other evidence from Rousse headland for Bronze Age occupation," he said.
"It does give us hope on this slighter higher ground there could be something more promising to be found."