'Lifeline' Aurigny jet starts on Guernsey-Gatwick route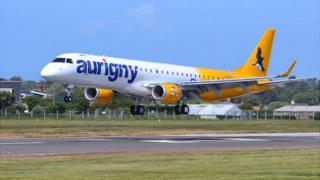 The purchase of a new jet to serve the Guernsey-Gatwick route was "absolutely essential to secure the lifeline route", Treasury Minister Gavin St Pier has said.
The Embraer 195 operated its first commercial flight, departing from Guernsey to Gatwick at 14:30 BST.
The 122-seat jet increases the number of seats on the six daily return flights, which is currently operated by three ATRs with about 70 seats.
The plane cost just under £25m.
It was paid for by a loan guaranteed by the States of Guernsey.
Deputy St Pier said: "We are very fortunate to have the security of six pairs of slots into Gatwick, which is a real asset, but in order to be able to fully utilise those, having the additional capacity of the jet was essential."
Aurigny became the sole operator on the route when Flybe pulled out in March.
The company has taken out another States-guaranteed loan to buy a fleet of Dornier 228 to replace its aging trislanders.
Three second-hand Dornier are due to be purchased before the trislanders are retired from service in March.
The airline is negotiating to buy two brand new Dorniers to be delivered by the end of 2016.
These aircraft would be used on services to and from Alderney.