Natwest shuts cancer company account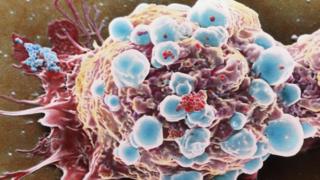 A Guernsey company that claims it can dramatically improve cancer survival rates has had its bank accounts shut by Natwest.
David Noakes, chief executive of Immuno Biotech, says he received no explanation of the closure, which was notified to him on Wednesday.
The company supplies a protein, called GcMAF, which it says costs a fraction of conventional cancer treatments.
Kevin Stewart, Commerce Minister, said GcMAF was unproven and unlicensed.
Attacks
Mr Noakes said his company was under attack despite bringing £5m into Guernsey every year.
"This is Natwest deciding they don't want us as a customer," he said.
"Who told them that, I don't know, and we are not allowed to discuss it with them.
"These attacks are happening continually."
Mr Noakes has invited all Guernsey deputies to a drinks reception on Saturday to meet some of 25 Guernsey cancer patients he says have survived because of GcMAF.
Deputy Stewart has publicly declined the invitation and told BBC News GcMAF could not be sold in Guernsey.
He said bank account closures were a matter for banks.
"It is not an approved medical product," he said.
"I can't substantiate anything David Noakes says and any time I ask him, they have not come back and told me.
"If he's got a properly clinically licensed product then that's all well and good, but what he's saying is he has a cure for cancer and if that's so, then why isn't every jurisdiction in the world using it?"
Mr Noakes says there are hundreds of scientists world-wide researching GcMAF and he has supplied a list of 140 to all Guernsey deputies.
A Natwest spokesman said: "We periodically review our banking relationships and, where we reluctantly decide that we no longer wish to provide banking facilities, adequate notice is provided."