Guernsey education board member Dennis Mulkerrin quits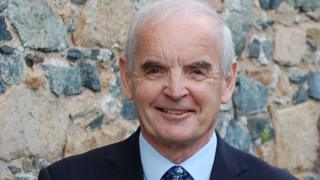 The man responsible for a critical report into Guernsey's education system has resigned from the education board.
Dennis Mulkerrin was a non-voting member of the board and said he quit over delays in implementing his recommended improvements.
He published a report in 2012 with a number of concerns about the education system in Guernsey.
The education board members thanked him for his service but said they had nothing else to add.
In a statement Mr Mulkerrin said the education board was not pushing through changes to teacher recruitment and the independent management of schools.
The education department said it would not comment until it formally received Mr Mulkerrin's letter of resignation.
He said he had already left.
Mr Mulkerrin was born in Guernsey but worked as a head teacher in the UK and built a reputation for turning around failing schools.
He was appointed CBE for services to education and was a special advisor to the UK Secretary of State for Education. He joined the education board two years ago.
The education board says it will make a decision over a replacement once the resignation has gone through.