Guernsey waste bag charges part of rising rubbish fees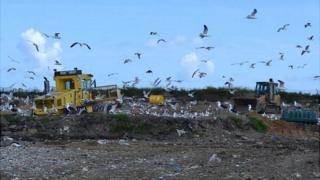 Charges for bags used for rubbish and recycling are being proposed as part of a new waste charging system being introduced from 2016.
Currently, islanders pay for waste and recycling collections annually based on the size of their property. The average is about £2 a week.
Charges under a waste strategy aimed at increasing recycling and exporting waste are expected to double that.
The change in charges aims to encourage recycling and reduce waste.
All households are expected to continue to pay a fixed annual charge under the plans, which are open to consultation until 8 August.
Public Services Minister Paul Luxon said: "In future there will be a link between how much we produce, and what we pay to deal with it, so we will all have greater control over how much it costs us.
"However, there will be an increase for many islanders because we are introducing better services and facilities.
"Inevitably this will cost more, but what most of us pay will still be low compared to other household costs."