Guernsey football stadium at The Track may be upgraded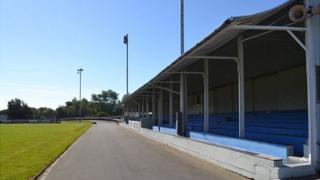 One of Guernsey's most prominent sporting venues is to be upgraded for the first time in nearly 90 years.
The Track, home to football club Belgrave Wanderers, has the island's only kart track and is owned by the Amalgamated Football Committee.
Plans have been submitted to extend the stadium at ground and first floor levels and replace the roof.
Hilary Sarre, honorary life president, said it had stood the test of time but it was time to move on.
He said: "There's been no major renovation work since about 1928.
"The stand has taken the test of Guernsey weather, which is strong at times, and it's proved it was built with a real foundation."
The Track has historically hosted the Muratti Final, the annual football competition between Alderney, Guernsey and Jersey, every other year as the venue for the final alternates between Guernsey and Jersey.
In 2003 the final was moved to Footes Lane, following the building of the Garenne Stand seating before returning to the The Track in 2009, 2011 and 2013.
It's not clear yet where the 2015 final will be played.