'Technical incident' suspends a Condor ferry service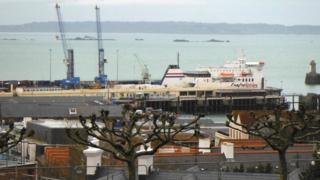 Ferry company Condor has suspended one of its ferry services after what it described as a "technical incident".
The Commodore Clipper was due to travel between the Channel Islands and Portsmouth but touched the seabed in the Little Russel off Guernsey.
The boat is currently in St Peter Port, Guernsey, undergoing checks.
Condor said no-one was injured but the ferry was unlikely to return to operation until after 18:00 BST on Tuesday.
The company said divers would be sent into the water to investigate whether there had been any damage to the boat.
A spokesman for Condor said fast ferries continued to operate along with the Commodore Goodwill.
He added that: "Passengers due to travel from Guernsey to Jersey or to Portsmouth tonight are being contacted by the customer services team to rearrange travel."