Sewage runs into sea from Guernsey's Fort George estate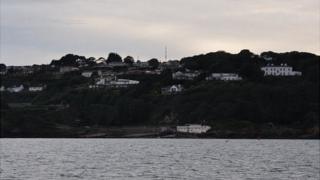 Concerns have been raised about the lack of progress in stopping sewage from Guernsey's Fort George estate going straight into the sea.
Currently all the estate's waste water, including sewage and rainwater, is carried by a single pipe into the sea.
Guernsey Water said questions over the stability of the headland area were holding up the work.
Barry Gibson, a retired engineer, said he thought some land owners were refusing permission for the work.
It follows delays to the installation of a new water main in Les Rouvets, Vale, after permission for the work could not be agreed with all affected landowners.
The statement response from Guernsey Water did not comment on this issue.
The estate has some of the island's most expensive properties.
Janine Le Sauvage, former Deputy Environment Minister, is a regular swimmer in the area and has campaigned about the issue for more than 20 years.
She said: "We are now in the 21st Century - something must be done about it.
"It is not acceptable any longer to pour untreated sewage straight over the cliff into the sea."
Guernsey Water said: "As with all projects we will put together a thorough business case and risk analysis to assess whether the benefit gained from the wastewater improvements at Fort George would outweigh any chance of undermining the stability of the land and how the liability of this risk can be managed between the States of Guernsey and the owners."
The majority of the island's sewage is discharged via the Belle Greve long sea outfall, after the non-biodegradable material has been removed, following the closure of the Creux Mahie outfall in 2010.