Guernsey flood measures 'overwhelmed' during downpour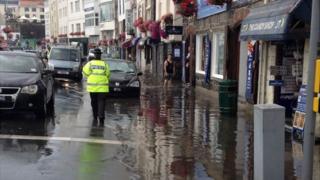 Flood measures were overwhelmed in St Peter Port when a sudden downpour of hail and heavy rain struck Guernsey at about 11:45 BST, police said.
The fire service was called to pump out and hold back flood water on the sea front.
At Admiral Park, the B&Q store was evacuated after flash flooding.
Sewage escaped from drains in the Ville Amphrey, near the Old Mill area in St Martin's.
Flooding also occurred at the Longstore, the Rue de Coutanchez, and the Rohais in St Peter Port.
The Bridge area in St Sampsons was also affected by flood water.
Guernsey Police urged drivers and road-users to take care when out as several drain covers had been moved by the force of water.