David De Lisle calls for alternative to sea sewage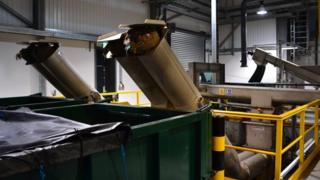 Plans to spend nearly £19m on upgrading sewage outfalls is "totally crazy", a Guernsey politician has said.
David De Lisle, Deputy for the West, said the money would be better spent on sewage treatment that met international standards.
The Public Services Department is bringing plans to the States next week to replace the long sea outfall for the Belle Greve Wastewater centre.
The department says the current system meets international standards.
A spokesman said: "The natural dispersion and treatment processes of the Little Russel allow the Island to meet all regulatory requirements for water quality and will achieve equivalent standards as stipulated within the main EU directives for bacteriological levels at bathing waters and beaches.
"The Department believes that this is the best and most cost-effective solution for wastewater disposal in Guernsey."
'Not sustainable'
Andy Cummins, from campaign group Surfers Against Sewage, said treatment was the only long-term solution.
Politicians have previously rejected proposals for full sewage treatment, but Deputy De Lisle and Deputy John Gollop think the time has come for it to be reconsidered.
They want the alternative of sewage treatment, including primary, secondary and sludge treatment, to be considered over spending money replacing the existing outfall.
Deputy De Lisle said it was a real test of the States and its commitment to comply with tightening environmental standards.
"We risk damage to our valued tourist industry and the related cruise liner business," he said.
"We have to address once and for all the negative publicity this island has received and we have to address it as quickly as possible."
He said the proposed plan was like "throwing money down the drain".
"Extending the pipe, the Belle Greve outfall, is not a sustainable solution in the modern world," he said.