Guernsey lorry driver Nigel Simon cleared of cyclist death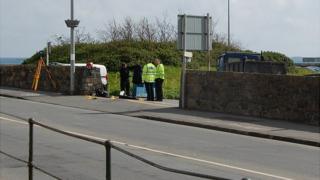 A Guernsey lorry driver has been cleared of the death of a cyclist.
David Allison, 59, died after being hit by a lorry at Salerie Corner in April 2013.
Nigel Paul Simon, 50, was found not guilty of causing death by dangerous driving and an alternative charge of driving without due care and attention.
The jurats were unanimous in finding him not guilty of the first charge and returned a 6-3 majority verdict on the second charge.
In summing up, Judge Sir Christopher Pitchers said there were a lot of variables in the case that would never become clear.
This included the speed of the two vehicles "at the crucial time" and exactly where the lorry driver's blind spot was.
He also commented on the road layout at the scene of the collision: "The odd configuration of carriageway where cycle path merges with footpath... [its] meaning was so obscure that policemen had to call the Environment Department for clarification of the lines."