Condor Ferries charters freight boat to replace Clipper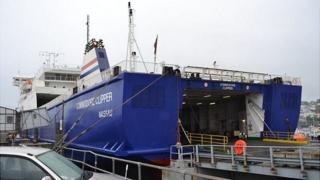 A cargo-only boat will start operating on Tuesday to replace the damaged Commodore Clipper.
Condor Ferries said it would make a "substantial contribution" to freight services for the Channel Islands.
The Clipper is being repaired in dry dock in Falmouth after it scraped the seabed off Guernsey on 14 July.
The charter makes no change to passengers due to travel on the Clipper, which is expected to be out of the water until 26 August.
Where available, they have been offered alternative transport on the company's fast ferries.
James Fulford, CEO, said: "It has not been possible to secure a direct replacement for Clipper which combines passengers and freight.
"However, three extra fast ferry services have been scheduled to provide extra capacity."
The MN Toucan is due to start operating from Guernsey on Tuesday, while the company's other freight vessel, the Commodore Goodwill, will focus on Jersey's freight shipping.
Mr Fulford said: "Over and above this initial solution, we will work with our freight customers to review the arrangements we have in place to protect the supply chain capacity to our islands."