Trawler fire tackled by Alderney lifeboat crew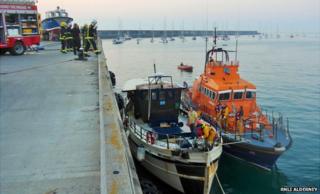 A fire on a converted fishing trawler was controlled by lifeboat crew.
The two crew aboard the 50ft Seafield raised the alarm when the fire started in the engine room while they were four miles north west of Alderney.
Two of the island's volunteer lifeboat crew transferred to the trawler and were able to contain the fire.
The trawler was towed to the Commercial Quay in Braye Harbour where Alderney firefighters boarded and dealt with the remaining hot spots.
Mark Gaudion, Alderney harbour master, said: "At this time it looks like an exhaust problem caught the deck timbers alight.
"It was mostly scorch damage really there were no leaping flames as such but [smoke] did completely fill the engine compartment and wheel house for a period of time."
The alarm was raised shortly before 20:00 BST on Thursday and the Trent class lifeboat was alongside within 13 minutes of launch with both vessels in the harbour by 21:00.
Mr Gaudion said: "They lost their electrics for some time so they were only on handheld VHF at the time, but luckily they were close enough to raise the alarm."
The two crew from the ship were treated ashore for smoke inhalation.
The 1947-built Whitby-registered trawler was being delivered from Minorca to Brighton.