Guernsey Water survey seabed for sewage outfall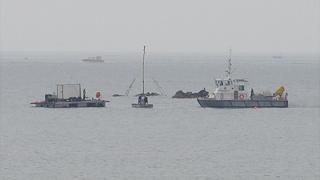 The route for a new £19m long sea outfall has been investigated before the money to build it has been released by Guernsey States.
The government is being asked to approve replacing the 1,700m (5,580ft) long sea outfall with a pipe that is 350-400m (1,150-1,310ft) longer.
Divers from the harbour authority have been involved in the work in the Little Russel, off Guernsey's east coast.
Details of the findings have yet to be announced.
The work included filming the seabed in the area where the current outfall ends.
'Not feasible'
A spokesman for Guernsey Water, which is responsible for the island's waste water systems, said the next part of the project was the States' discussion this week.
Boreholes will also be dug into the shore of Belle Greve, to check the strength of the rock underneath.
The report going to the States says the original plan for a £4m refurbishment of the current outfall was "not a feasible option" and the new pipe needed to be longer as the "optimum zone for discharge had been identified" further out.
If approved, the work, which has to be carried out in the spring or summer months, is due to be carried out in 2015.
The replacement of the long outfall is the fifth part of a £34m project to improve the island's sewerage system.
The project also included the building of a preliminary treatment plant and storm water retention facility.
The proposals are being opposed by two deputies who believe the island should be investing in full treatment of sewage instead.