Fixed prices for Guernsey milk could end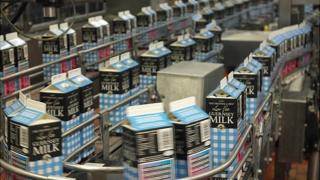 Fixed prices for milk could end as part of a move to give Guernsey Dairy more commercial independence.
Removing rules on prices would allow retailers to set milk prices, which could see prices fall.
It is part of a report about the island's dairy industry which calls for the 1958 law, banning most milk imports to the island, to be tightened.
Commerce and Employment Minister Kevin Stewart said protection against outside competition was crucial.
Deputy Stewart said the dairy would still be allowed to import milk if there were problems but there would be "certainty over banning milk imports".
He said: "If one major retailer suddenly decides to challenge [the ban]...we wouldn't be in a position, right at this moment, to defend that."
Dairy farmer Julian Ogier said bolstering the import law was the most important thing.
"We need a secure market and if they can do that for us then anything else that gets thrown at us, we can probably take on the chin," he said.
The report found the number of farms had halved over the past decade - from 30 to 15 - but individual farms had increased production to replace what was lost.
It said: "Dairy farmers are, in effect, custodians of our very limited countryside, and the Guernsey breed is really our USP [unique selling point]."
The report suggested joining with Jersey to create Channel Islands UHT milk and asking farmers to manage calving to improve yields during the autumn and winter.
It proposes a system to "replace the existing and unclear licence arrangements", which would allow any commercial customer to directly buy any product, except milk, from the dairy and stop the dairy directly selling milk to shops.
Currently all products are distributed by licensed milk retailers.