Guernsey political system 'too slow'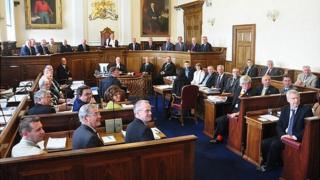 Guernsey's deputies will not be able to deliver on 2012 election promises because the island's political system is too slow, an analyst said.
Adrian Lee, a political expert who analyses small jurisdictions, spoke after politicians almost had to sit over the weekend to get through business before the summer break.
Such a situation was "unprecedented", said the Bailiff.
The assembly was elected in 2012 and the next elections will be in 2016.
Politicians will sit again in September.
Mr Lee said as things stood, it was inevitable the States would struggle to get through all business.
"In 2012 electors in Guernsey didn't elect a set of politicians into government with a common manifesto and common set of priorities," he said.
"Those were actually worked out by the policy council after the election.
"People always talk about consensus government and how they're attached to consensus government...but there is no consensus or agreement on how government should be derived and constructed."
Former Treasury and Resources Minister Charles Parkinson says the States have failed to achieve what the electorate had hoped because members have not created a masterplan this term.