Guernsey Salerie Corner fatal crash entrance to be closed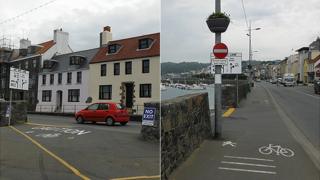 A car park entrance where a cyclist was killed in a crash will be shut because drivers continue to "break the law" in using it.
Guernsey's Environment Department improved the signs at the side entrance to Salerie Corner after the death of cyclist David Allison in April 2013.
It also restricted its use to those towing boat trailers only as the entrance is next to the QEII Marina.
The department said the only option was to close the entrance.
A spokeswoman said: "This is an extremely disappointing state of affairs and is a sad reflection of the total disregard that a small number of motorists have for the law and for road safety in general.
"This has left the department with no alternative but to make arrangements to close off this access to all vehicular traffic."
She said it was not clear when this would happen as the car park would need to be rearranged to allow boat owners to access the marina's slipway via the main entrance.
The spokeswoman said this work would be be subject to planning permission and would "inevitably" led to some disruption to parking.