Petition against paid parking reaches 1,000 signatures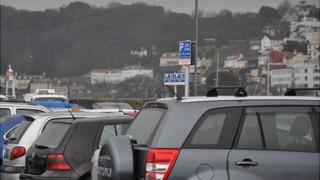 A petition demanding the States make a U-turn on their decision to introduce paid parking has gained over 1,000 signatures, including some deputies.
Workers will have to pay more than £1,000 a year to use public car parks in St Peter Port in Guernsey.
Wendy De Bourgonniere started gathering signatures opposing the plan two weeks ago.
She said low earners in St Peter Port will suffer from paid parking in the short-term.
'Sick and tired'
Ms De Bourgonniere said: "I was very angry because to me it's just another way to get money from us. We already pay enough as it is.
"It's the people who work in town I feel very sorry for. That's going to come out of their wage packet. I'm sick and tired of it."
The introduction of fees for long-term parking was part of a traffic strategy agreed by the States in May.
It is not yet clear when the 60p an hour parking charges will be brought in as a number of laws need to be rewritten.