Lancaster bombers to appear in Guernsey Air Display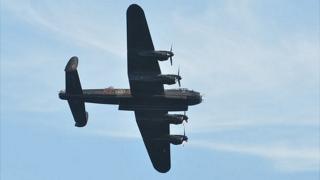 The only two airworthy Lancaster bombers in the world are due to fly together in the Guernsey Air Display next month.
The Lancaster, belonging to the Battle of Britain Memorial Flight, is a regular feature of the air show.
It is due to be joined by a plane from the Canadian Warplane Heritage Museum, which is taking part in two months of events across the British Isles.
Money raised from the event goes to the Royal Air Forces Association.
---
Lancasters
•The most famous RAF heavy bomber of World War Two
•It carried a maximum bomb load of 22,000lb (10,000kg)
•With a full load it could fly more than 1,500 miles (2,400km)
•7,377 Lancasters were built between 1941 and early 1946
•About 3,500 were lost on operations and another 200 or so were destroyed or written off in crashes
•The vast majority of those Lancasters that did survive the war were scrapped when they were no longer needed
---
Organiser Barry Neal said the plan was for the two Lancasters to open the display alongside other planes from the Memorial Flight.
He said: "It's a once in a lifetime opportunity, it's never happened [over Guernsey] before and personally I doubt it will happen again."
The Red Arrows are due to provide the finale of the display on 11 September, which is also expected to include the Jet Prevost to mark the aircraft's 60th anniversary.
Last year, poor weather in the UK meant the Battle of Britain Memorial Flight's Lancaster, Spitfire and Hurricane were unable to take part in the display.