Guernsey pet owners 'have duty of care' under new law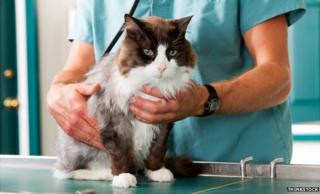 Islanders are being warned they could face prosecution if they fail to ensure pets are free from pain.
It follows a change in Guernsey law last month, which is the first in a series of animal welfare law updates.
David Chamberlain, States vet, said the laws were based around five freedoms, which include freedom from pain, injury and disease.
He said: "If you do not seek veterinary attention then you may be guilty of an offence."
Pensioner Rod Hamon, whose two cats died recently, said the costs of veterinary care meant he could not afford to own another.
"We've had animals for 20-30 years and now I can't afford one any more and that's sad," he said.
A veterinary appointment in Guernsey costs about £40 - only a few pounds cheaper than a GP visit.
Steve Byrne, manager for the GSPCA animal shelter, said he had sympathy for people such as Mr Hamon but that "costs are part of caring for an animal" and suggested budgeting for a pet or insurance as possible solutions.
Mr Chamberlain said "unfortunately" there was no help available from the island's government for meeting the cost of treatment.
He said: "If you look at the cost of pet ownership over the lifetime of a pet, typically a dog or cat is going to cost you up in the high teens of thousands of pounds, so £18,000, £19,000.
"This is a big responsibility, you have a duty of care it's a conscious decision, you don't have to have a pet and if you can't afford it then really you shouldn't go down that road."