New bid to convert derelict hotel to dementia care home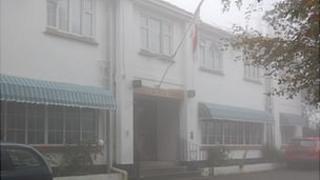 A renewed bid to turn a former Guernsey hotel into a specialist dementia care unit is being supported by a 6,000-signature petition.
A group of doctors want to convert the former Green Acres Hotel, but have already been turned down once.
They will submit a new application on Friday, 5 September, when campaigners will also hand a petition to the environment minister.
Campaigner Sarah Griffith said new facilities were badly needed.
Damage tourism
"Dementia is on the increase and that's not going to go away, it will only get worse and we don't have enough provision on this island," she said.
The previous application was turned down in March when it was opposed by Commerce Department officials who said it would damage tourism.
Ms Griffith said many who signed the online petition also left stories about difficulties encountered in finding care provision for relatives with dementia.
"I know people with relatives with dementia who are in inappropriate places," she said.
"The care given to someone with dementia is specialised and needs to be separated out."
She said mixing dementia patients with infirm elderly people with no mental problems, as often currently happens, was unfair to both sets of patients.
"We really, really need to take this seriously," said Ms Griffith.
"You only have to look at the predicted figures for people who will have dementia by 2020 and its scary."
The 43-room Green Acres Hotel, in St Martin, closed at the end of October 2012.