Campaign launched to protect runners after dark in Guernsey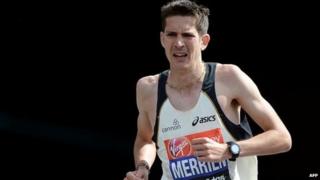 A new campaign is being launched in Guernsey to raise awareness of the risks of running after dark.
The Guernsey Police, Guernsey Athletics and Lee Merrien Running clubs are involved in the campaign.
The aim is to launch a document that identifies top tips for road runners' safety as the winter nights draw in.
Olympic athlete Lee Merrien said he has almost been hit twice by vehicles mounting pavements, even though he was wearing high visibility clothing.
Mr Merrin said: "I've had a couple of near misses...because it's dark they've not spotted the runners."
'Run with traffic flow'
Sgt John Tostevin, from Guernsey Police, said: "I think it's everybody's responsibility whether you're running, cycling or driving.
"If you're using the highway you're in charge of your own destiny so, whatever you're doing on the road, you are in charge of making sure you do it safely."
Sgt Tostevin said island runners should run with flow the traffic rather than against due to the narrowness of most of the island's roads, which is against UK advice.
"Given our geography and our type of roads, my advice is we run with the vehicles and not towards them.
"On small lanes if you run towards a car on a blind corner you could be confronted with a car coming the other way," he said.