First four cattle deployed to save island grassland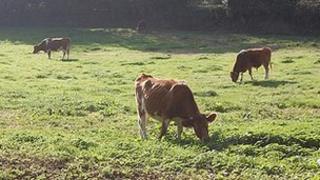 A herd of four Guernsey steers is being deployed to help save the island's grasslands.
The animals are the first bought by Le Societe Guernsesaise to graze abandoned farm land and reinvigorate its biodiversity.
Conservationists aim to grow the herd to eight.
Le Societe is the second largest landowner in Guernsey and said the island had lost half of its grassland habitat in 10 years.
The project is costing £40,000.
Julia Henney, who runs the conservation herd, said land formerly suitable for subsistence farming had been abandoned and become overgrown over the years.
"They'll graze on the grasses in different ways so you end up with an uneven structure... All of this will help wild flowers germinate, allow invertebrates to flourish and this in turn will support the wildlife that feeds on them, like bats, birds and small mammals," said Ms Henney.
Societe president Pat Costen said the herd was "incredibly important" in the effort to halt the decline of Guernsey's biodiversity.
"The Societe functions as a wildlife trust and the phenomenal amount of work Julia is doing can do nothing but good," she said.
"It's very exciting for us."