John Gollop featured on graffiti stencils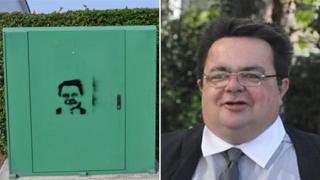 A Guernsey politician whose face features in stencils sprayed on telecoms and electric boxes has urged those behind it to stop.
Several pieces of graffiti featuring John Gollop appeared in the Castel and St Saviour over the weekend.
St Peter Port North Deputy Mr Gollop said he appreciated the funny side of the tags but warned they should not be painted on public property.
Those behind it risked prosecution for criminal damage if caught, he added.