Guernsey roadworks charges plan 'set aside'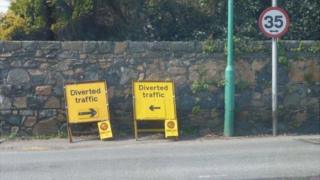 Plans to charge for closing roads have been shelved by Guernsey's Environment Department.
It was investigating the issue as it spends £350,000 a year on managing road closures and parking restrictions.
A department spokesman said the focus was on the Road Transport Strategy and "other priority work areas".
However, Public Services will continue to look at charging for digging up roads to cover the cost of resurfacing.
In June Public Services Minister Paul Luxon said a sum of £4.2m set aside for road maintenance in the 2014 budget would only pay for resurfacing 50% of the roads dug up in the past two years.
Environment Minister Yvonne Burford said: "There are other more important things so I don't think we be looking at this in this terms [of government, which finishes in April 2016]."
She said: "It has to be an accepted fact of life in Guernsey that there will be roadworks, but what we need to do is keep those to a minimum.
"Some people say the contractors could work through the night, but then do you want a pneumatic drill going outside your house all night? It's a matter of balance."