HMS Charybdis and HMS Limbourne sinking remembered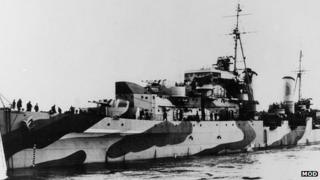 Hundreds of men who died when two Royal Navy warships were hit by German torpedo boats in the English Channel are being remembered in Guernsey.
Four-hundred and sixty-nine men died when HMS Charybdis and HMS Limbourne were hit in October 1943.
Twenty-one bodies later washed ashore in Guernsey and were buried with full military honours.
Five survivors are among those attending events which include a church service, parade and concert.
David Amory, Guernsey's president of the Royal Navy Association, said: "There are only nine survivors left worldwide and the youngest is 90 years old.
"One of the survivors told us he was in the water for four-and-a-half hours, soaked in oil.
"It took him six months to get the oil off his body. These guys went through hell," he added.
Services in Guernsey have been held every year since 1947, with the island marking the 70th anniversary in 2013.
An attempt to tow HMS Limbourne was unsuccessful and she was later sunk by torpedoes from HMS Talybont and gunfire from HMS Rocket.