Aurigny Dornier 'should' arrive in Alderney in October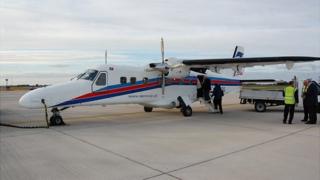 The first of Aurigny's new fleet of small planes is due to arrive in the middle of October, the airline has announced.
The Dornier 228 will replace the trislander on flights between Alderney, Guernsey, Southampton and Dinard.
Malcolm Coupar, commercial director, said the aim was to have three or more Dorniers in service by summer 2015.
He said: "The arrival... is timely as we have experienced some technical issues with the Trislander fleet."
As well as delays to passenger flights, the technical issues have impacted on medical airlifts from the island.
Mr Coupar said: "We apologise to our customers and the communities the trislander aircraft serve for any inconvenience this has caused.
"The trislander has been a wonderful servant.
"We believe that the Dornier 228, which requires two pilots, will deliver a better experience for our passengers especially in areas such as reliability, comfort and speed, as well as noise levels both inside and outside of the aircraft."
He said the plane was being bought from the Portuguese operator Groupo Seven Air, which would be supplying pilots and maintenance crew for a few months, until Aurigny staff are fully trained on the Dornier.