Guernsey Cambridge Steps closed over harbour safety concerns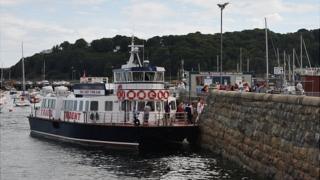 A set of Guernsey harbour steps used to transfer passengers on and off the ferries to Herm have been closed over safety concerns.
The 18:00 BST service on Tuesday was the last time the Travel Tridents will use the Cambridge Steps and will instead use the inter-island quay.
The harbour master said the move had been agreed with stakeholders.
Captain Chad Murray said there was increasing conflict between the safety of the public and freight operation.
He said the change followed a review and would also see tenders from cruise ships moved to free up space on the inter-island quay.
Former harbour master Peter Gill said the steps were named after the arrival of Prince George, the second Duke of Cambridge in September 1862.
He said Queen Victoria's cousin visited as the harbour was being built and a granite stone was included in the wall by the steps to commemorate the visit.