Duty on beer and cigarettes goes up in deficit-ending budget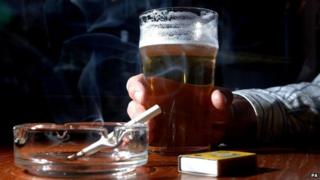 Duty increases on alcohol and tobacco are among tax rises being brought in to balance Guernsey's books.
Treasury Minister Gavin St Pier said the States needed to raise an additional £9m to return to the black.
The corporate sector will be expected to generate an extra £4.6m while personal taxes and duties are expected to raise a further £3.35m.
Deputy St Pier said years of cuts in spending across States departments meant the deficit could end next year.
The island's government has had a yearly deficit since the introduction of a zero-10 corporation tax in 2008, under which most companies pay no tax, while others pay 10% and a minority pay 20%.
---
Headline changes
A freeze in personal income tax allowances
3% increase in the rate of tobacco duty - excise duty on average pack of 20 cigarettes increases from £3.90 to £4.12
2.5% rise in the duty on alcohol - about 2p a pint
Domestic tax on real property rates to increase by 15% or about £22 a year for the average householder
3p increase in the duty on a litre of fuel
Commercial tax on real property to increase by 10%, but only 5% for retail properties
Extension of 10% intermediate income tax rate to licensed fund administration businesses
---
Mr St Pier said he felt the burden was spread fairly.
"It is all about balance and our judgement was having the corporate sector bear the largest proportion of revenue-raising measures this year was a fair allocation, recognising there are continued pressures in the economy on businesses as there are on individuals," he said.
The budget also includes proposals for the issuing of a Guernsey bond to raise between £250 and £330m.
Mr St Pier said: "There is a myth that Guernsey doesn't do debt. The reality is, we already have £250m of public sector agency debts or guarantees in place."
This includes the loan Aurigny, the States-owned airline, used to buy the Embraer 195 jet to serve the Gatwick route, which cost about £25m.
Mr St Pier said: "The proposed bond scheme is not about raising money to spend but about making sure our assets work even better for us, by taking advantage of record low interest rates."
The rises in duty on alcohol, tobacco and fuel come into effect immediately, but the rest of the budget needs States approval.