Guernsey WW2 aircrew memorial gets go ahead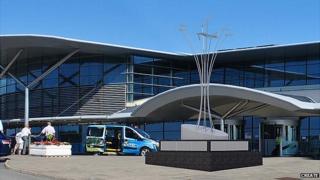 A memorial at Guernsey Airport to World War Two Allied airmen has been given final planning approval.
It will remember more than 140 airmen shot down either in the Bailiwick or further afield after being hit by German flak fired from the islands.
The 6m (20ft) tall design includes a Boeing B17 bomber and six Spitfires.
The names of all those killed, which continues to be researched, are due to be written on plaques placed around the base of the memorial.
Historian John Goodwin has so far found 144 airmen who were killed, but more could still be found.
The majority were Americans who served in B17s along with pilots and crew from Britain and the Commonwealth forces including Australia, Canada and New Zealand, as well as from Poland and Czechoslovakia.
Mike Snelling, from the committee behind the plans, said the money and support already pledged meant the "minimum" design could be raised, but he hoped they could raise £20,000 to add all the "bells and whistles".
He said this included putting in a system so flag staffs could be erect for parades on days of remembrance and improving the quality of the plaques.
The committee hopes the memorial will be in place by September next year.