Alderney and Guernsey air-link flight numbers 'plummeted'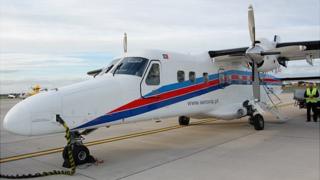 Operators of the air link between Alderney and Guernsey have been criticised after a delay in replacing aircraft forced the number of flights to "plummet".
The chairman of Alderney's Policy and Finance committee, Francis Simonet, said Aurigny had badly handled the upgrade.
Alderney Transport Group said poor reliability was affecting business.
Aurigny's chief executive admitted the arrival of new aircraft was delayed.
Aurigny, the Guernsey States-owned airline, is in the process of replacing Trislander aircraft with Dornier aircraft.
'Undermining business'
Mark Darby, chief executive of Aurigny, said: "There is a slight delay in the Dorneys arriving.
"We have got three aircraft operating and they will carry on operating until we get the Dorneys to replace them. We are talking a matter of days not months."
Paul Clark, from Alderney Transport Group, said: "There has been a dramatic recent drop-off in service that is really affecting business and it's really affecting our medical evacuation capability.
"The service level has plummeted because there are not enough aircraft to serve the island."
Alderney resident Pam Pearson said her family had suffered from the unreliability of the medical flights.
She said: "As manager of a private, long running local family business we have prepared long, and invested, to be ready for the hoped-for upturn from recession. So too has the States of Alderney.
"Aurigny mis-management of an admitted long known and foreseen problem is the catalyst undermining everything we as a business, and the people of Alderney's unpaid volunteer groups, have strived to create. "